The library-cum-reading room of the institution is well stocked with a collection of different books like magazines, national periodicals,journals,reference books,text books exclusively meant for all kinds of competitive examinations and to face the intellectual challenge of the competitive market.
The art facility of CIMS designed in such a way so that students can avail the optimum opportunity of diverse socio cultural activity and well placed them in different types of circumstances through their groomed personality.
Since the inception of CIMS computer was commissioned inside the premises under the initiative of esteemed management members and professional faculty to sharpen the technical skills of students as well as smoothen the academic and administrative work.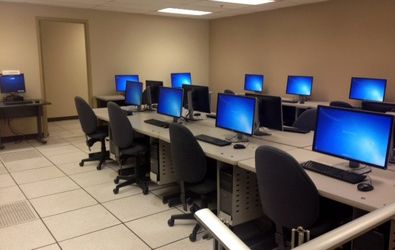 Communication lab of the institution well designed with learning materials to groomed the students word power, phonetics and language proficiency through which students can achieve a well of verbal behavior and reach to the desired ladder.
For physical fitness and refreshment students are provided with play fiels with various facilities of game,sports and other events with specialised coaches and P.E.Ts.
CIMS though not a completely residential one but provide a residential facility to the students in the hostels. Both boys and girls supervised by the superintendent and coordinated by the warden .Both the hostels have common room where boarders are provided with news papers, television and common mess facility exist as well.
For communication of the students of city to the campus timely and safely we have richly comfortable vehicle driven by professional driver.
Student Scholarship
100% Student Scholarship for Sc / St student.
Language Lab
In a globalized economy, English Language is established as the major transaction language. The classes in Business English Laboratory emphasize not only on verbal communication, but also on non verbal traits like body Language, mannerism, dressing up, social etiquette, voice modulation, intonation etc.
Canteen & Cafeteria
The canteen inside the campus serves as the meeting point for the students. Apart from serving lunch and dinner, a variety of ready-to-eat snacks and beverages are made available.
Smart Class Room
Class Rooms are equipped with interactive software and are equipped with modern teaching aids like LCD projectors, 100 cm LED smart TV and audio-visual equipment.
Wi-Fi Campus
The students are provided Wireless connectivity (Wi-Fi) by which they can access online information anywhere in and around the campus using their Laptops and Hand-held devices.